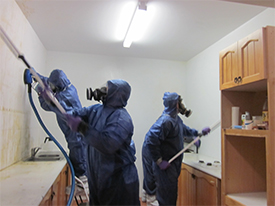 First, our country is hit by Ebola, which is a seriously deadly transmittable disease. And if that wasn't terrifying enough, now we are all hearing the devastating effects of the Measles Outbreak. KRI offers Professional Communicable Disease Decontamination Services for Texas. The health risks of transmittable diseases are real and with one disease spreading after another in this country it's important that any areas in question be fully sanitized. Our OSHA certified biohazard cleanup technicians have successfully helped with decontaminating the Ebola Virus and are also capable of remediating the spread of Measles.
The Measles Outbreak
Many, if not all Americans have heard about the Disneyland outbreak that is rumored to have initiated this country-wide spread of measles in late 2014 – early 2015. One of the most frightening observations of this Measles occurrence is that both unvaccinated and vaccinated children and adults are at risk! With that being said, the only way to fully eliminate the spread of measles is to successfully decontaminate the areas where the infected have been present. KRI is fully equipped to eliminate the harmful and even deadly risks associated when healthy people enter an environment that has been exposed to this highly contagious respiratory disease.
The Symptoms and Spread of Measles
Measles symptoms start with what may appear to be a common cold – coughing, a runny nose and continues with a high fever, red or watery eyes but then the symptoms start to show visually, such as little white dots in the mouth, followed by a rash, which can cover the infected child or adult's entire body.
The Measles infection is contagious for up to four days before and after a rash is apparent.
Another chilling factor about measles is that it's highly contagious; so much so that 90% of people not immune that come within close distance of an infected person will contract the disease. The live measles infection can become airborne, as well as contaminate surfaces for up to two hours, without a host. This measles threat needs to be dealt with over-cautiously, for the sake of everyone's health. What once was declared an eliminated threat in the US has now issued an official CDC Health Advisory and without proper sanitation methods it could potentially became a major endemic here, as it is already prevalent in many other parts of the world.
Measles Decontamination
Hospitals, public locations, schools, airports, homes and many other locations will need to be sanitized. And pouring bleach over everything won't cut it. Our specialized team of Biohazard Cleanup Professionals have head-to-toe protection, strict protocol and will be quarantined after the decontamination process for extra precaution. Our OSHA certified technicians can guarantee the restoration of any location that has been contaminated with Measles, Ebola or any other risky Communicable Disease.
Be confident in the safety of America and contact KRI for Professional Communicable Disease Cleanup – 24/7/365 at 1-888-382-2930, [email protected] or fill out our online form.