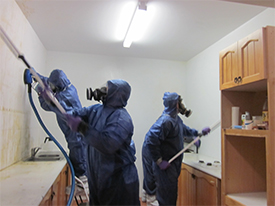 It's impossible to believe, but the responsibility for cleaning up the remnants of crime scenes is always left to the victims of barbaric acts and their families and/or property owners. Fortunately in Espanola, New Mexico, KRI is available 24 hours a day to clean up any ghastly scenes, easing family members or property owners of, hopefully, a little burden. KRI maintains that only seasoned professionals should be in charge of the cleanup of bio-hazardous environments, including blood, bodily fluids, or the recently deceased. Unless a skilled technician is responsible for the clean up, there can be serious consequences that come with crime scene cleanup, including the potential of contracting debilitating infections or diseases. We provide experienced crime scene cleanup services in Espanola to local residents, and property/business owners.
Crime Scene Cleanup Services Espanola
It's our goal to help you get back to your life, or what remains of it, as soon as possible. KRI Crime Scene Cleanup is well-versed for prompt responses and careful cleanup, sanitation, and disinfection services. Our meticulous and thoughtful cleaning of crime scenes makes it safer and less difficult for you to start picking up the pieces. The more time that goes by without the location being adequately decontaminated, the more time it is before you can get back to your life. The area of contamination can grow dramatically when people tamper with a crime scene, enhancing the chances for any inadvertent health risks. Also, removing a grisly scene can help ease the visual reminders of the traumatic experience. Our professional bio-hazard cleanup crew serving Espanola will eliminate any hazardous conditions and return your home or building back to a safe and usable condition for everyone.
Insurance Covered Cleaning Services
The callous truth is that close ones are often on the hook when the time comes to deal with the remnants of a sudden death, whether it be homicide, suicide or an accident – KRI believes that no one should have to endure the gut-wrenching hassle of cleaning up the remains of their beloved lost family members or friends. There's no need to relive the emotions of the crime by trying to scrub the stains and remains from your home, business, or other location – instead have KRI's professional team take care of the duty. If there are hesitations about expense, as is typically expected, we should make it known that insurance will normally cover the cost of clean-up in New Mexico. And in uncommon cases where there is no insurance, we can work with you to arrange a sensible payment schedule for your situation.
Crime Scene Cleanup Scenarios:
Burglaries
Assault
Vandalism
Shooting
Forensic Work
Homicide (Murder)
Suicide
Drug Operations
Accidents
Important Crime Scene Cleanup Steps:
Always Equip Anyone in the Hazardous Area with Protective Gear
Restrict Access of the Area
Dispose of Non Salvageable Property
Apply Thorough Sanitation Treatments – Multiple Times
Assess and Test the Satiation Level
Provide a Certificate of Completion/Safe Habitation Document
Dedicated & Confidential Cleanup Services
If a heinous crime ever rocks your life or the life of someone dear to you it is natural that you'll need time to come to grips with the events. KRI understands this and the feelings that are associated with the clean up process because we interact with victims of sickening acts every day. But there are other people in the general public who don't seem to understand, and media or neighbors may harass you and other people for specifics, which you're obviously not ready to divulge. Our professional cleanup crew knows that the event that has happened is your story and that you should get to tell it first, whenever you might be ready. We never disclose pictures or information about the incident or area with anybody unless we are legally required to do so.
Contact KRI for a confidential consultation for our Espanola crime scene cleanup services at 1-888-382-2930, email at [email protected] or fill out our service inquiry form on our contact page.
Professional Cleanup Qualifications:
40-hour OSHA HAZWOPER Certified
Bloodborne Pathogens Certification